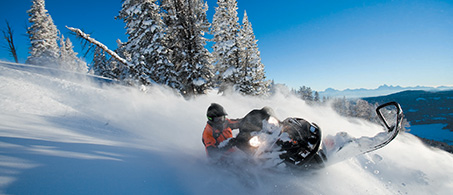 Photo credit: www.banffadventures.com.
Snowmobiling is a popular sport in Yukon. But we ask that you take precautions, especially around power lines, to ensure a safe ride.
Here are some things to consider. Following these suggestions could save your life.
Reduce your speed around utility poles. Guy wires that anchor the poles normally have yellow covers to make them more visible, but sometimes the covers have been damaged or removed, or are difficult to see because they are covered by drifting snow.

Steer clear of downed poles and power lines. Nearby objects can be energized by a live power line, so avoid the entire area. Report the danger by calling us at 1-800-676-2843.

If someone does make contact with a downed power line, either directly or through their machine, do not touch them or any objects around them. Seek help from emergency services.

Avoid the areas around hydro substations and any other hydroelectric facilities that you may come across, on or off the trail.

Stay off waterways near hydroelectric dams and generating stations where fluctuating water levels and currents may result in unstable ice conditions.