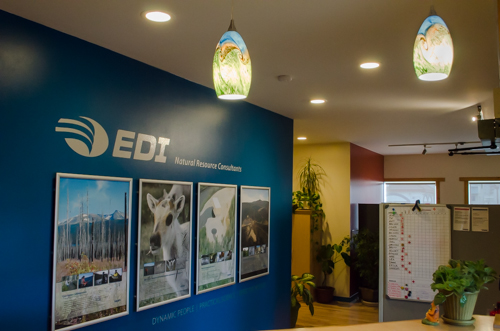 We've been talking recently about the benefits of moving to LED lighting. The lights are initially more expensive (currently one light costs between $15 and $25 here in Whitehorse stores) but they actually save a significant amount of money over the long term compared to the old incandescent bulbs and even the newer CFL lights, since the LEDs last up to 25 times longer than the old bulbs.
We recently received an email from the local company EDI Environmental Dynamics Inc. They have switched 95 percent of their lighting to LEDs, with great reviews from their staff. Here's part of the note from the company's branch manager Pat Tobler:
"To move in our new office location, the building had to be renovated to suit our needs and as such the lighting had to be redone. Our staff was very keen on more natural and pleasant lighting alternatives to the typical florescent lighting that is found in many offices. We agreed track and pot lighting would be appropriate and when it came to bulb choice we had to decide between LED and halogen. The cost difference was significant for the 87 lights we needed ($3,000 for LED, $300 for halogen). We knew that the efficiency and extended bulb life would pay for itself over the length of our lease. In terms of quality, we went with a softer light (650 lumens). We are pleased to report that our staff is very happy with the lighting in our office. While the lights will pay for themselves over the term of our lease, we feel that they already have paid for themselves in terms of their contributions to the overall atmosphere of the office."
It's great to hear reports like this. If you have experience with LEDs in your home or office that you'd like to share, please drop us a note or post something here.