Yukon Energy crews are currently responding to a power outage affecting parts of downtown Dawson City (4th, 5th and 6th Avenues between King Street and Harper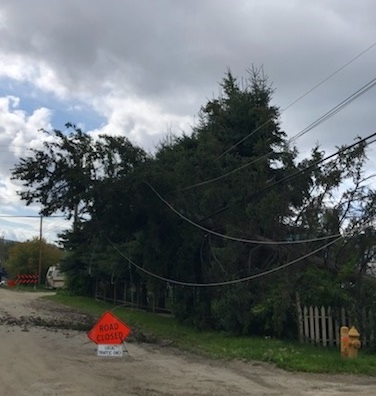 Street).
The outage began at approximately 2:35 p.m. this afternoon (August 6) and was caused by a large tree falling onto a power line in town (see picture to the right).
Crews are currently working to remove the tree and repair damaged equipment. Crews hope to have power restored by 6 p.m. tonight.
For updates, please follow us on Facebook or Twitter.
Facebook.com/yukonenergy
Twitter.com/yukonenergy
Update at 6 p.m., August 6: Crews are still working on fixing the power line. We're aiming to have the power back on by 7 p.m.
Update at 6:30 p.m., August 6: Power has been restored. Thank you everyone for your understanding, patience and cooperation this afternoon.