Construction has begun on the new grid-scale battery storage system on Robert Service Way near the Alaska Highway. The new battery will help Yukon Energy meet peak demands for electricity during the winter, burn less diesel fuel and improve the reliability of the Yukon grid.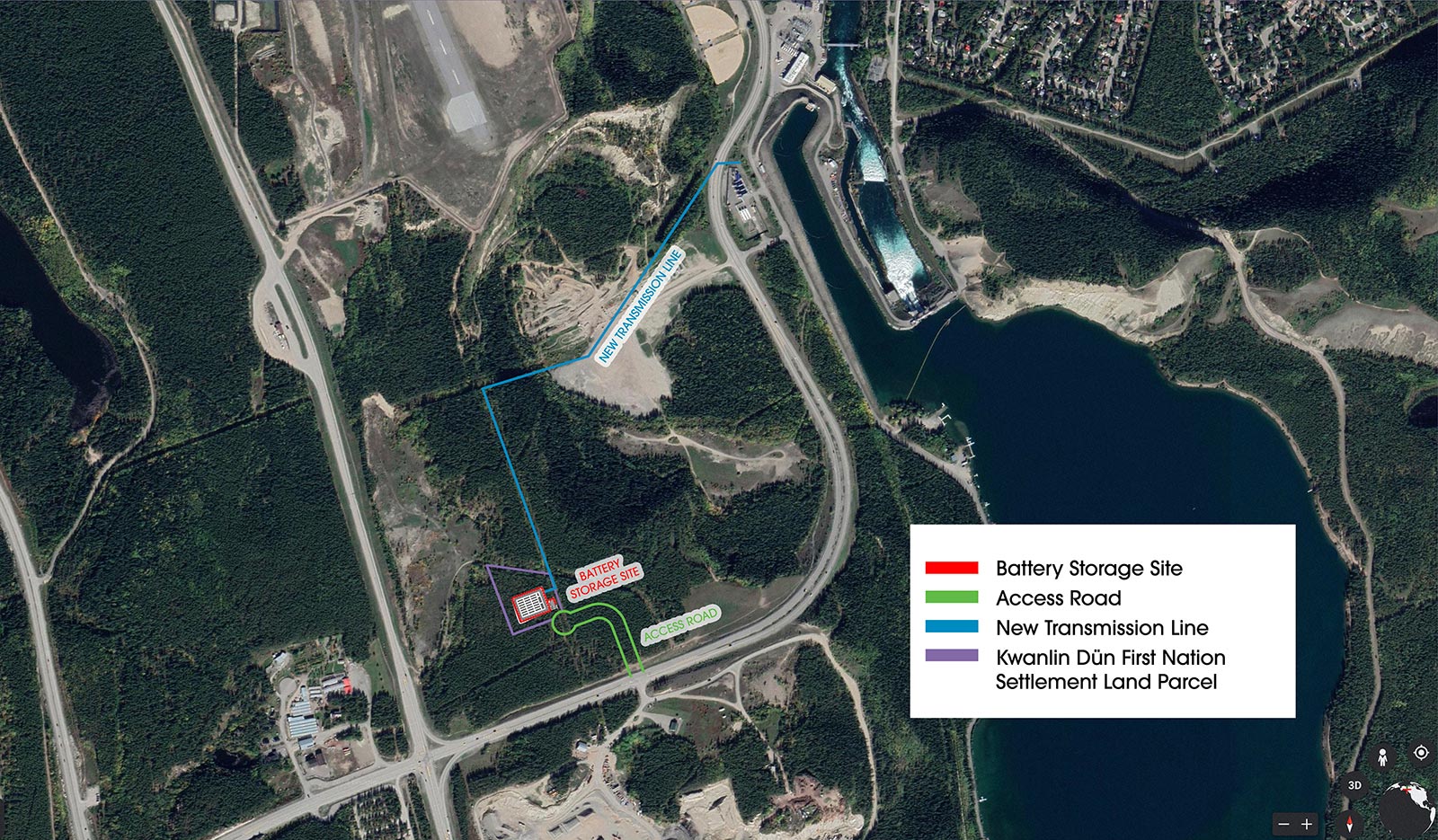 The battery site is located on Kwanlin Dün First Nation Settlement Land that has been identified by the First Nation for commercial development. The site has been cleared and a temporary access road to the site has been built.
Yukon Energy and its contractors will also build a new transmission line to connect the battery to the Whitehorse Rapids Generating Station and the Yukon grid. The new power line will be built alongside the power line that already exists in the area.
Safety first
Construction of the transmission line may disrupt those who hike, ride and walk their dogs along the unmarked trails in the area. While we're not closing the trails, we are asking that you use extreme caution during the construction period, which is expected to continue until January 2023. Avoid active construction activities, pay attention to all temporary signage, keep your pets on a leash and let children know to avoid the area.
Working together with First Nations-owned businesses
Yukon Energy acknowledges that the new grid-scale battery is being built on the shared Traditional Territories of the Kwanlin Dün First Nation and Ta'an Kwäch'än Council.
Businesses owned by Kwanlin Dün First Nation and Ta'an Kwäch'än Council have, and will continue to have, a significant role in the development of the battery including investment, procurement and contracting opportunities as part of the overall project. Earlier this year, Yukon Energy signed a 25-year lease agreement with Da Dan Developments – a subsidiary of Kwanlin Dün First Nation's development corporation, Chu Níikwän Development Corporation – for the land needed for the battery. Ta'an Kwäch'än Council-owned businesses are working on site preparation activities while Kwanlin Dün First Nation-owned businesses are building the access road to the site.
When finished, the battery will be the largest of its kind in the North, and one of the largest in Canada.

This project is funded in part by the Government of Canada. For more information, read the news releases below.